Arizona To Open Largest Resort In The State With 5-Acre Pool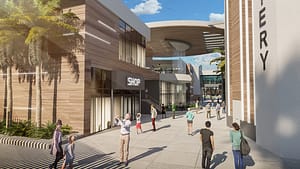 A new luxury resort called the VAI Resort will open in Arizona, providing guests with a unique experience. The VAI will be the biggest resort in the state, with over 1,100 rooms and several amenities, including a live music venue and even a Mattel theme park.
The resort is situated just 9 miles from downtown Phoenix, in Glendale. It spans 60 acres and is conveniently located next to the State Farm Stadium, making it an attractive destination for travelers seeking an impressive oasis. The resort comprises four towers, Muse, Rhythm, Cadence, and the Villas, each offering unique amenities and designs.
The resort will have premium-designed spaces in a suite tower called The Villas. These rooms range from 1,100 sq. ft. to 5,300 sq. ft. and come with exclusive infinity-edge pools offering stunning views of the 60-acre property. If that's not impressive enough, the resort will have a 5-acre pool for you, your family, your extended family, and everyone you've ever met to enjoy without seeing each other.
The resort will offer 1,100 rooms in towers and villas along with these luxurious spaces.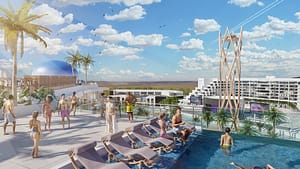 The park offers various activities, such as driving a Hot Wheels go-kart, enjoying a signature pink beverage at The Barbie Beach House rooftop, and participating in a treasure hunt with Thomas & Friends. At the resort's beach, guests can enjoy private cabanas and beach-side activities that resemble Arizona's Caribbean and Mediterranean resorts.
Arizona: A Hotspot for Investors Worldwide
Arizona has become a hotspot for investors worldwide with its growing economy and fantastic weather. The VAI Resort is just one of the many examples of how the state constantly improves its hospitality industry to cater to the ever-increasing number of visitors.
The new resort is an impressive addition to the hotel industry in Arizona.
Its impressive amenities and activities offer guests a unique and unforgettable stay.
Arizona's economy is continuously growing, making it an ideal location for investors worldwide to invest in the hospitality industry.