Opportunity Zones are a powerful tool for wealth-building and community development. As a part of the Tax Cuts and Jobs Act of 2017, Opportunity Zones were established to stimulate economic development and job creation in distressed communities. At CapitalGiants, we're leveraging these zones to create substantial returns for our investors while contributing to community revitalization.
What are Opportunity Zones?
Opportunity Zones are economically distressed communities where new investments, under certain conditions, may be eligible for preferential tax treatment. The zones were created to spur economic development by providing tax benefits to investors. At CapitalGiants.com, we've integrated Opportunity Zone investing into our methodology, creating a win-win situation for investors and communities.
Benefits of Investing in Opportunity Zones
Investing in Opportunity Zones comes with a host of benefits:
Tax Incentives: Investors can defer tax on any prior gains invested in a Qualified Opportunity Fund (QOF) until the investment is sold or exchanged, or December 31, 2026, whichever comes first.
Community Development: Your investment can help revitalize distressed communities, creating jobs and improving living conditions.
Potential for Substantial Returns: As these areas develop, the value of your investment can significantly increase.
How Opportunity Zones Work
An area qualifies as an Opportunity Zone if it has been nominated for that designation by the state. That nomination has been certified by the Secretary of the U.S. Treasury. Investors receive tax benefits when they invest their gains in these zones through a QOF. For instance, an investor with a capital gain from selling or exchanging a property can invest that gain into a QOF and defer tax on that gain.
How to Find an Opportunity Zone
Finding an Opportunity Zone is straightforward with the help of the HUD's Opportunity Zone map. This free tool allows you to search for Opportunity Zones in any part of the country. When choosing an Opportunity Zone for investment, consider factors such as the area's economic indicators, the local government's support for development, and the growth potential.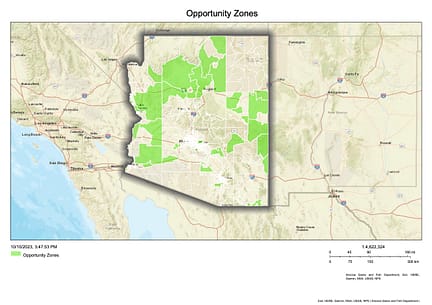 Arizona and Opportunity Zones
Yes, Arizona does have Opportunity Zones! Arizona has 168 Opportunity Zones spread across urban, suburban, and rural areas. These zones present a wealth of investment opportunities, with several success stories of investors reaping substantial returns while contributing to community development.
The Impact of Investing in Opportunity Zones
Investing in Opportunity Zones has a broader impact beyond individual financial gain. It stimulates economic development, creates jobs, and improves living conditions in distressed communities. At CapitalGiants.com, we're proud to be a part of this positive change, leveraging strategic investments to drive community development and generate substantial returns for our investors.
Conclusion and Call to Action
Opportunity Zones offer a unique chance to build wealth while positively impacting communities. Investing in these zones allows you to enjoy significant tax benefits and the potential for substantial returns.
Want to learn more about how we're investing in Opportunity Zones? Contact us at CapitalGiants.com to find out how we can help you reduce and sometimes even remove the tax liability of your 1031 exchanges, allowing you to make a substantial return on your investment. Explore our About page to learn more about our mission and methodology.
Take the first step towards building wealth and making a difference today. Invest in Opportunity Zones with CapitalGiants.com.